Dear Mompreneurs, Homeschool Moms, Moms with Struggling Students to Write, & Adult learners,
It's Cyber Monday and I can't resist any longer. We're currently planning our new calendar. This outstanding thought interrupts our conversation. "Let's help out the parents and their children!"By now, you don't have to guess anymore about their writing ability. Here at TLA, we're all about helping and seeing progress in your lives. So, I graciously decided to give you an offer you won't believe!
This decision didn't require me to think twice about it because I certainly want you to have it. So, we're offering you the Writing Your Best Course at an extremely low price!
Go ahead, and see the best deal below!
But, hurry because it's only offered to the first 200 100 people to take advantage of this!
Why Get the Writing Your Best Course
It's structured to help struggling writers in 8th grade to high school and adult learners. The focus is on essay writing. As a certified former high school English teacher, I've witnessed thousands of students not write adequately and on grade level.
Due to lack of sufficient classroom time, writing skills are weak, and its performance doesn't meet state or testing standards. I know as a parent you feel horrible because they lack knowledge in writing areas. Seeing this increasing problem for over ten years hurts.
Through formal analysis, research and evaluation measures, I was able to develop a writing structure which has proved successful in building the struggling writers stamina, confidence and writing style.
It also provides the right tools and strategies to effectively compose an introduction, thesis statement, body paragraphs, and conclusion. Students and adult-learners demonstrate growth from writing less than a paragraph to writing on topic concisely with coherent paragraphs.
Many learners demonstrate weaknesses in writing, and this course has the cure for it.  I know it will change many lives, help students write at any level and solve many problems. I've worked with students and adults who wrote less than 20% on an essay, and have developed a proven tool and strategy that demonstrates growth beyond 70%.
Did I mention this course can be used OVER AND OVER again from your computer, laptop, cell phone, or tablet?
Each of the focus areas shows me teaching your son/daughter step-by-step strategies to write better
Introductions
Thesis Statements
Body Paragraphs
Transition Words
Conclusions
Brief Revising and Editing Techniques
Great for students & Adult learners
This course is for beginner to intermediate level writers. It gives tools and shows efficient strategies for writer's block, answering questions or prompts, and how to stay on topic.
 Here's what you'll receive
2 Hours 11 mins of instruction
5 Videos directly showing strategies
How to gather and organize your thoughts/ideas for any topic
How to structure and write complete paragraphs: Intro, Body & Conclusion
How to write a thesis statement
Quick Revise and Editing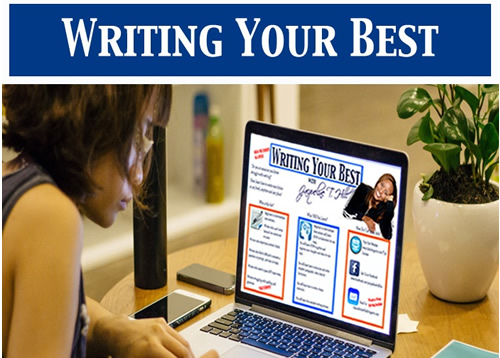 Writing Your Best Course
Was $57 On Sale For Just $27