When you have teenpreneurs who wants to be an entrepreneur, be supportive of this dream.
Being a former classroom English teacher taught me that many teenpreneurs exist. They have other plans. Teenpreneurs may not want to go to college or get a certification within a different field. Hence, some may want to be entrepreneurs and begin as teenpreneurs.
Teenpreneurs had the opportunity to practice their skills in my classroom. Now, I realize this is against school policy and they can end up in big trouble.
And I need you to know that as a teacher I followed all policies except the one for selling goods and services. Ahem! I need to be specific. The teenpreneurs only sold Gatorade, chewing gum and candy.
Teenpreneurs Are Masterminds.
When a student starts transitioning to a teenpreneurs mindset, let he or she follow this passion. Be supportive. One day while teaching my former students how to write an expository essay, a young man struggled with what to write. The prompt for this assignment was:
Write an essay explaining why it is necessary to take a risk.
He raised his hand. I walk over to assist him. "Yes, dear. Are you stuck?" He nodded his head with a look of confusion. At this moment, I asked, "what is something in your life you've taken a risk to do?"
He answered, "I have a job on the weekends. I paint new designs on old sneakers." From the conversation starter, I learned how he makes money over the weekend. The series of questions helped him explain in great detail how he takes risks and earns over $600 per month.
Of course, the risk part didn't spark my interest as much as the creation, process, earnings and problems he solved for many in his community. He takes people's old sneakers, cleans, and paints freshly new designs on them.
Teenpreneurs will use creative ways to get the work done.
The teenpreneur transformed his grandmother's garage into a workspace. He has no outside weekend plans because he works Friday night, all day Saturdays and for a few hours on Sunday. His revenue goes back into the business.
I understood that he only pockets enough money for a haircut and lunch money for the week. The rest of the money goes into savings and supplies.
Another student sold Gatorade and candy bars. His sales totaled $300 per month. He, too, replenished the goods using a Costco's membership. The rest of the money went into savings and haircuts.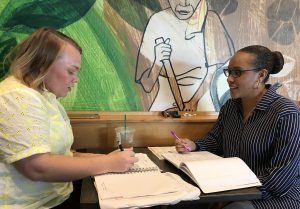 Teenpreneurs Need One Opportunity To Keep The Momentum
A teenpreneur mindset needs consistent nurturing and cultivation. Should they not want to attend a university, creating space for them not to feel like failures mean a lot.
Aside from my writing program, I started a teenpreneurs program in my city. I contacted the local library and met with the program coordinator several times for planning this effort. Megan announced it on the library's website and to administration. So, our session dates were January 17th, 24th & the 31st for two hours each.
These teenpreneurs learned about other young entrepreneurs like Mo's Bows, Marley Dias, and Mikaila Ulmer all of who are young entrepreneurs and make over 6-figures. 
I used the above young business owners to condition their mindset for top-earning status' and Millionaire-like understandings in business.
The teenpreneurs became fascinated because they didn't know that others' their ages were business owners. Now teenpreneurship is believable for them.
In these sessions, we planned, discussed their ideal markets and clients, created websites and connected their social media buttons. They also presented their websites to administration.
Below is the post from their website and link.
Teen Influencers: Discover new social media strategies and how to use them for good.
Join social media influencer, author and local small business owner Jacqueline T.Hill as we learn about entrepreneurship, social media branding, and marketing. Jacqueline teaches program participants the fine art of advertising yourself or your business in the best possible way by sharing social media strategies to get followers and clicks. There will be a special focus on nonprofit work so this will help you help others!
Bring your laptop if you have one and your cell phone if you use it for social media!
Learn more here