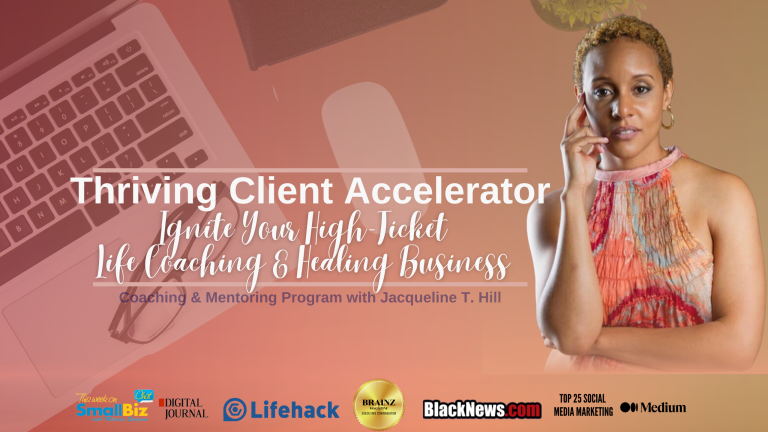 Thriving Client Accelerator Terms & Condition
As part of your enrollment in Thriving Client Accelerator, you are agreeing to our conditional return policy below. Please read it carefully!
This Group Coaching Participation Agreement ("Agreement") establishes the terms and conditions relating to Participant's involvement with The Living Acts LLC's group coaching program "Thriving Client Accelerator".
Participant Agreement: Group Coaching
1. The Program
This coaching program, with an initial commitment period of 12 months for small business owners, aims to educate participants about various aspects of running and expanding a company. From the day payment is received (known as "Program Start Date") until 12 months (Program End Date), participants will have full access to The Living Acts LLC for assistance throughout this journey.
2. Fee and Payment Schedule for Program
Program Fee
The Thriving Client Accelerator Program Fee will be $5997 if paid in full when signing this Agreement.
The Program Fee covers:
-Access to membership portal with trainings throughout enrollment;
-Twelve (12) monthly group coaching calls during enrollment
-Access to our Facebook Group group (for as long as enrollment lasts).
As per Section 2.1 above, in exchange for our services provided to you as stated herein, you agree to pay us either in one lump sum payment for 12 months of access or as monthly installments of $547 until cancellation; should you choose one lump sum payment, your card will automatically continue being charged $547 until cancellation; there will not be an invoice reminder sent out regarding these payments; in case any authorized charge applied by us fails for whatever reason, payment still stands as agreed herein.
Participants Choosing Payment Plan Options (2.2 for Participants).
(a) Payment and Expenses
Participants are required to make an Initial Payment of $547 directly to The Living Acts LLC ("Initial Payment"). In case the Thriving Client Accelerator Program Fee payment deadline passes without being met by Participant, their admission into the Thriving Client Accelerator Program could be forfeited and will result in their expulsion from said Program.
After 30 days since Initial Payment has been received, eleven (11) monthly installments of $547 must be paid until all Program Fee has been settled in full.
Participant authorizes The Living Acts LLC to automatically charge their credit card on file for all Program Fee balances due and to keep this information updated at all times with them. Should payments become insufficient or declined for any reason whatsoever, The Living Acts LLC reserves the right to remove them from Thriving Client Accelerator without incurring any liability whatsoever in that respect.
Your participation in The Thriving Client Accelerator program requires full financial commitment. As per their payment options outlined in your client account, The Living Acts LLC online payment system requires payments using either major credit cards as primary methods with alternative forms being considered in case default or missed payment is made via primary mode; The secondary form will then become active if primary method defaults due to missed or defaulted payments from primary method; third-party shopping cart plug-in is utilized by The Living Acts LLC for processing payments.
Thriving Client Accelerator participants are solely responsible for any expenses incurred as part of participating, including equipment and software needed to implement Thriving Client Accelerator – this information may change without prior notice.
(b) Recurring Payments
I understand that when payment dates fall on weekends or holidays, payment may be executed the next business day. Furthermore, should my transaction be rejected due to Insufficient Funds (NSF), The Living Acts LLC processing system reserves the right to attempt processing it once more before giving up on it altogether.
(c) Cancellations
Requests received for cancellation or refund by The Living Acts LLC will not be honored and any outstanding balance owing must be settled within 12 months from when registration was first completed for The Thriving Client Accelerator program. Thriving Client Accelerator participants cannot make changes or substitutions after thirty days have elapsed; after twelve months have elapsed however, participation may be terminated with 30 days notice for any reason. Your monthly fees and continued access will continue until your 30-day notice period has concluded, without refund. Once cancelled, however, no one may rejoin for 12 months from either when cancellation occurred or until an open spot becomes available (whichever comes sooner).
3. Participant's Conduct
Participants agree to conduct themselves in an appropriate, dignified, professional and healthful manner at all times during Thriving Client Accelerator events hosted by The Living Acts LLC and shall refrain from any activity which endangers other attendees, participants or attendees' wellbeing in any way. Further, The Living Acts LLC reserves the right in its sole discretion and without reimbursement should their behavior cause disruptions within or hinder other attendees' enjoyment of Thriving Client Accelerator courses.
Participant means an individual who has registered as customer with The Living Acts LLC. Client Growth Accelerator licenses or passwords provided herein may only be used by Participant for use permitted hereunder and should never be sold or distributed without express written approval by The Living Acts LLC.
4. No Lifetime Access
Participants understand their enrollment in the Thriving Client Accelerator Program will only last twelve (12) months and then switch over to month-by-month terms; participants will continue having access as long as they remain actively enrolled.
5. Release
Each participant of the Thriving Client Accelerator Program agrees that any images, audio recordings and/or videos obtained during enrollment in the Thriving Client Accelerator Program may be utilized by the Company without restriction or liability to themselves or third parties. Participant agrees to forgo any right of compensation, royalties or any other consideration arising from their images, audio and/or video recordings being used without payment or royalties being due in exchange for using these assets in written or electronic copy featuring Participant as seen or heard within. Living Acts LLC hereby holds itself harmless and releases it from all claims, demands and causes of action that might arise as a result of this authorization from Participants, their heirs, representatives, executors or administrators, as well as anyone acting on their behalf or for their estates.
6. Intellectual Property
All intellectual property rights associated with Thriving Client Accelerator Program content and materials distributed during or in relation to it belong solely to The Living Acts LLC or partners present during a Thriving Client Accelerator Program session. Participants agree not to reproduce such items for any use whatsoever without written approval from The Living Acts LLC first.
7. Cancellation of Warranties
The Living Acts LLC makes no warranties with respect to any aspect of the Thriving Client Accelerator Program or materials related to or offered in connection with it and, to the greatest extent possible under applicable laws governing this Agreement, disclaims all implied warranties including but not limited to fitness for a specific purpose, accuracy, timeliness and merchantability. Participant understands and acknowledges they are fully accountable for their own progress and results, with no guarantees being offered from The Living Acts LLC either verbally or written regarding future earnings, business profits, marketing performance or customer growth results of any sort. Nothing presented during this Thriving Client Accelerator Program constitutes any promise or promise to achieve certain outcomes either directly or indirectly for Participants.
8. Force Majeure
A party shall not be responsible for failures or delays in performance due to causes beyond its reasonable control, such as acts of God, war, strikes/labor disputes, embargoes/government orders etc. or other force majeure events; upon an such occurrence they shall notify each other accordingly of their incapacity/delay in fulfilling obligations as soon as they become apparent.
9.Governing Law; Venue and Dispute Resolution
This Agreement shall be subject to Texas law and any disputes must be handled exclusively in Gregg County, Texas. Both Parties agree to attempt mediation as an avenue of resolution of any claims orcontroversy that arise out of or relate to this Agreement. Parties agree that mediation must be pursued in good faith before seeking any other legal or equitable remedy, including litigation, arbitration or any other dispute resolution procedures. If any legal action or proceeding is brought to enforce this Agreement or to address an alleged dispute, breach, default, misrepresentation in relation to its provisions, then the successful party shall be entitled to recover reasonable attorneys' fees and costs associated with that action or proceeding as well as any additional relief they are due under it or it might provide them.
10. Entire Agreement; Waiver of Claims
This Agreement represents the entire understanding between Participant and The Living Acts LLC and supersedes all prior and contemporaneous agreements, representations, or understandings between them. No waiver by The Living Acts LLC shall be considered as a waiver of similar or related provisions in future Agreements nor constitute continuing waiver; all waivers shall only become binding if executed in writing by both Parties.
11. Effect of Headings
The headings provided within this Agreement are for convenience and shall have no bearing whatsoever on how any provision of this document should be constructed or interpreted.
12. Severability
Should any term, provision, covenant, or condition of this Agreement be held invalid by an arbitrator or court of competent jurisdiction as invalid or unenforceable, its remainder remains fully in effect and shall in no way be compromised, impaired, or invalidated by such decision.
13. Non-Disparagement
Both Parties agree and acknowledge that, should any dispute arise between them, its resolution shall only occur at the venue set out herein below. They further stipulate that neither will engage in any actions or communications designed to disparage each other either publicly or privately with third parties.
14. Indemnification
You agree to indemnify, defend, and hold harmless The Living Acts LLC and all of its officers, directors, employees, agents and third parties against losses, costs, liabilities and expenses (including reasonable attorney's fees) caused or related to your use or inability to use of Thriving Client Accelerator Program services related services including any user postings made by you; your violation of terms in this Agreement; any breach or rights violations by third parties; your breach or violation of laws rules and regulations applicable; your violation or disregarding applicable regulations by violation; at your expense – provided they choose instead to assume exclusive control and defend such matters – in such case you must cooperate fully in asserting available defenses available against such matters by cooperating fully cooperating fully cooperating fully cooperating fully cooperating in asserting any available defenses available by co-operating fully cooperating fully cooperate with them as necessary against such an option being taken advantage of at its cost in asserting any available defenses available by them when such an option would otherwise fall upon indemnifying yourself as well.
 ©The Living Acts LLC
Effective Date for Registration is June 1st 2023